When the Holy Month of Ramadan is about to begin, brands start planning their Ramadan marketing campaigns. As soon as social media opens its floodgates, they start to bombard users with Ramadan posts. Yet, the Holy Month presents quite a challenge for digital marketers and social media specialists worldwide. This is natural, as they need to come up with new ways of grabbing users' attention.
Breaking the bread surrounded by your near and dear ones is at the heart of Ramadan traditions. When Covid prevailed, these warm traditions were gone as the Holy month witnessed limited social activities due to the strict restrictions.
But this is all water under the bridge now. This year, with the ease of measures, it seems more likely that people will gather again to celebrate the ancient and spirited feasts of the Holy Month. And yet, one fact remains unchanged, lockdown or not. There is a growing trend that the way Ramadan is celebrated around the world is changing as people are spending more time online.
Ramadan Marketing Campaign
Ramadan is the busiest advertising season of the year and social platforms, as well as marketing teams, know that high-quality, truly engaging content can influence buying decisions not only during this Holy Month, but for the rest of the year if not beyond.
PETRIKOR's Ramadan Campaign 2022
"As we are feel nostalgic for the true Ramadan, PETRIKOR's Ramadan campaign this year is all about celebrating Ramadan in the Arab world. A Holy Month rich with beautiful details and peculiar traditions, specific to every country and every community," said Saleem El Deek, CO-Founder/CEO.
As such, the agency started off with a short 2D animated video. The video featured kids entering a mysterious tent, to reveal at the end that everyone is celebrating Ramadan inside the tent with food and decoration.
Later on, as the main video is published, we will have as hero a Ramadan cover song newly arranged for our campaign. It is a mix of four well-known Ramadan songs: Ramadan Gana, Wa7awi ya Wa7awi, Halawanji ya Ismail and 3allou al Bayare2. We will animate the video in a special frame by frame animation and will also reveal the creative usage of other techniques.
Throughout the Month of Ramadan, PETRIKOR will also animate posts that speak of known traditions in some major Arab countries. These traditions are still perpetuated and followed, generation after generation throughout the month.
The agency has also planned to be active on TikTok using the same materials mentioned above.
Get A look to Our Ramadan Campaign: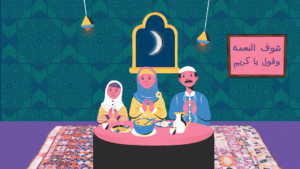 Ramadan Engagement: Stats and Insights*
1.     71% of Ramadan observers like to see ads that include people from different backgrounds
2.     72% of Ramadan observers trust brands that represent people like them and their communities
3.     90% of Ramadan observers like to see content that aligns with their views and values
4.     38% of Ramadan observers start planning their shopping at least 20 days before Ramadan
5.     48% of Ramadan observers associate the beginning of Ramadan (first half) with adjustment to new routines
6.     44% of Ramadan observers associate the 2nd half of Ramadan with spiritual reflection and giving back to the community
*Source: "Ramadan and Eid Study" by YouGov
Ramadan Campaign Marketing Tips
Here's a bunch of tips valid every year!
Be aligned with the values of Ramadan
Make sure you immerse yourself with the values that Ramadan stands for. Ramadan is a month of charity, connection and self-growth. So as a marketer, you need to think about how your brand can both live and promote these behaviors throughout the Holy Month and beyond.
Be mobile ready
As consumers are engaging on mobile and digital channels more than ever, especially since the COVID-19 pandemic, Ramadan became increasingly digital and mobile first. So as a marketer, you need to make sure that your brand is also fit for mobile, while at the same time offering your customers a strong app experience and trigger loyalty.
Be relatable
Create Ramadan Campaign content that resonates and connects with your community.
Be mindful of the budget-conscious
To maximize ROI, you have to be budget-conscious.
Posting times will differ in Ramadan as it's preferable to post
-Between 3-4 PM as work hours are usually less during Ramadan and people start checking their feeds to waste time until they can break their fasting.
-From 8 PM -to  9 PM right after Iftar, a period during which people frequently check their feeds.
-Between 10 PM – 2 AM after tarawih and before suhoor.
Be eyeful
Don't Forget to have your online store ready for Ramadan. Users expect when entering any store or social media account since the first days of the month that the interface, posts and designs will be in line with the Ramadan atmosphere and show how prepared your brand is for this special time of the year.
Digital and Mobile Marketing:
Fun Stats from Facebook and Google
In 2020, the Guinness World Record recorded the most ever views of an Iftar live stream. Six of Saudi Arabia's biggest YouTube creators amassed over 180 000 concurrent viewers on a live stream to celebrate Iftar, the evening meal served at the end of the day to break the day's fast.
Facebook users in the Middle East & North Africa (MENA) spend 58 million more hours on the platform during the month of Ramadan, compared to any other month of the year.
Ramadan is a time where people are more spiritually minded, with a focus on a sense of community. It's estimated 9/10 people in MENA engage with an online charity during Ramadan. According to Facebook, 91% of its respondents said they support a charity in some way during this time.
Last Ramadan, MENA users spent over 50% of their free time consuming online entertainment. According to Google, online 'free time' came in the form of web browsing, watching videos/streaming sites, social media and playing video games.
Online shopping in MENA was bigger during Ramadan 2020 than any other period of the year (including Black Friday!)
Inspiring Ramadan Marketing Campaigns
These are a few samples from brands we love that aced it with their Ramadan Marketing.
Home of Switz سفرة دايمة: As the region was spending another Holy month in a pandemic without friends and family, Home of Switz used social media as a way to connect locked down households by launching a filter that allowed users to be featured on @homeofSwitz Instagram story highlight: 'The Endless Virtual Iftar Table'. The filter gave people outlines to take a picture of their dinner, in a way that enabled them to be stitched together with other tables.
Oorderoo's film on making the internet better: made for Oorderoo Doha and launched across the Middle East, South East Asia and North Africa, the film shows the internet as a child that the world has made and has a say into how it can be used, through our actions, for better or worse. A metaphor that clearly means that if we treat the internet as a child of ours, we wouldn't be as careless and irresponsible with it but instead would do our best to make it a force for good, and what better time to start than during Ramadan.
Nestlé's Ramadan bot: Nestlé Middle East developed a helpful Messenger bot where people could ask the bot questions related to food, general information about Ramadan, health & wellness, entertainment and gifting ideas, and receive in a conversational way, relevant product suggestions, recipe ideas, and Ramadan-related information.
Pepsi's virtual suhours: Pepsi brought people together during the Holy month despite social distancing. Pepsi partnered with Saudi influencer Tareq el Harbi. They hosted a 'Virtual Souhour' on Instagram live, including fun chit chats and playing games.
PETRIKOR, your go-to digital marketing agency
Looking for a creative and results-driven digital marketing agency? Need help with your social media and social marketing?  PETRIKOR provides SEO, SEM and SMM services as well as comprehensive digital marketing services to companies across the region and beyond. Contact us today to learn more about what services can help your business grow.
We at PETRIKOR wish Ramadan Mubarak to all our customers celebrating the Holy month!